Quarter 1 2021
I. BPCI-A Performance Data – Status Update for All Teams 
Although non-participating hospitals (Brandywine, Chestnut Hill, Phoenixville)  have ceased program involvement and subsequent financial risk beginning January 2021, Tower Health will continue to receive data from CMS as claims run out. Tower Health Leadership does not anticipate the following to be the case but is encouraging teams to not abandon existing CETs if program participation has ceased, especially for service lines which tie into system-wide initiatives. TH will work with ECG Management consultants to prepare a full retrospective data performance analysis by hospital, that will be reviewed at a future Bundled Payment Steering meeting once final claims are available by CMS. The intent of the analysis is for all teams, both participating and non-participating, to evaluate how they've faired in the program from inception, consider lessons learned and opportunities for improvement both at the local and system level in regard to value-based care initiatives. Teams will be encouraged to disseminate the information to service line leads and respective bundle episode physician leads after review.
Both existing and new clinical effectiveness teams (CETs) should continue to expect performance updates on a quarterly basis. New CETs will begin to receive data beginning late Q2 2021 as new episode claims will not be available prior to that point. Quarterly performance updates will feature current cost and utilization data as well as both high spend/outlier case information and post-acute care benchmarking comparisons. Teams are encouraged to use the quarterly updates to trend overall performance longitudinally across Performance Periods and look for opportunities for improvement in both clinical and care coordination. 
II.  CMS Program Quality Performance 
If successful, the BPCI-A model will result in streamlined, coordinated care episodes that improve both quality and the patient experience as well as reduce costs (defined as what Medicare pays for services). Participants may receive payments from CMS under the model for providing coordinated and cost-effective care. On the other hand, as this program is a voluntary risk program, participants may owe payments to CMS if costs are higher than the Target Price. 
To ensure that reduced spending does not negatively impact quality of care, CMS holds participants accountable to select mandatory quality measures which get factored in and applied at the participant (TH hospital) level. CMS adjusts reconciliation through the application of a Composite Quality Score (CQS). There is a 10 percent cap on the amount by which the CQS can adjust the reconciliation amount. CMS calculates the score on a yearly basis then applies that score to the applicable Performance Periods (PP). The first score received recently for this program is attributable to CY 2019 which includes both Model Years 1&2 of the program as well as PP's 1&2. Some quality measures apply to all episodes, while others only apply to specific episodes. Figure 1 provides TH results of the scaled scores for the 3 quality measures that apply to all five TH participating hospitals for CY 2019: Patient Safety Indicators (PSI 90), All Cause Readmissions & Advance Care Plan. Additional information regarding these quality measures and their definitions can be found on the BPCI-A Quality Measures webpage.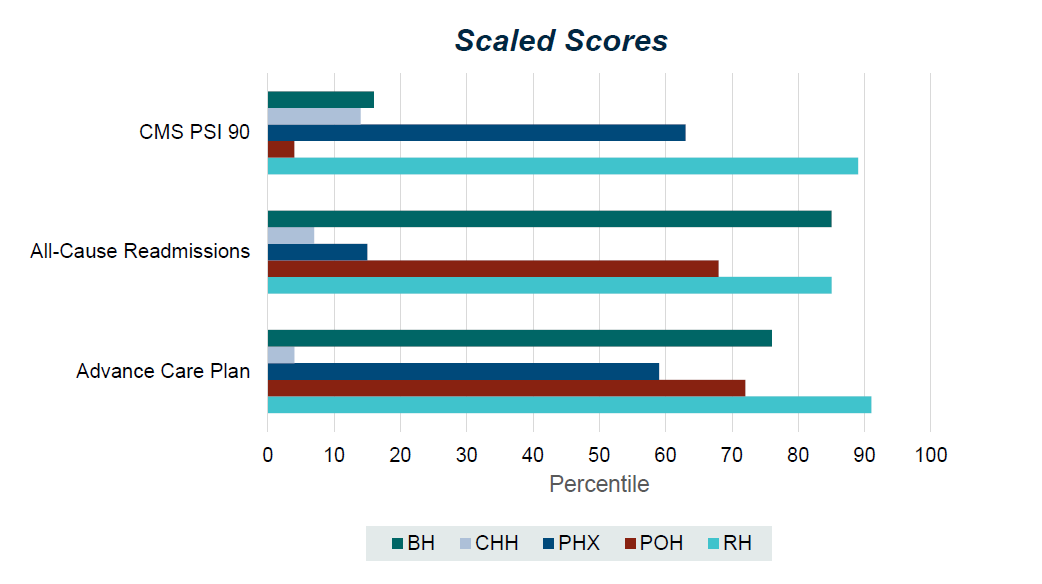 Quality program information including hospital results will be provided to each respective hospital leadership team in March 2021. Additionally, Tower Health Providers (THP) will be including a review of this material in their quarter one hospital leadership outreaches. Respective teams will be charged to disseminate this information to the appropriate physician leads & clinical CETs as appropriate. For additional questions regarding this information and hospital results, please contact your hospital leadership team, THP or Kristen Klopp, Manager of Bundled Alternative Reimbursement. 
III. Spring 2021 Physician Settlements
The December newsletter highlights that TH hospitals received respective reconciliations from CMS late CY 2020 as well as the process for settlement distribution to physician groups deemed eligible for payouts. The next round of physician settlements to eligible physician groups will be distributed late March/early April 2021. This pay out will tie to two PP's: 
PP1 True Up #2: a final payment for this PP. PP1: Jan 1, 2019 - June 30, 2019
PP2 True Up #1: an interim payment for this PP. PP2: July 1, 2019 - Dec 31, 2019
Please reach out to your respective hospital Chief Financial Officer, THP Leadership (outlined by Figure 2) or Kristen Klopp, Manager of Bundled Alternative Reimbursement with questions, comments or concerns regarding physician payout distribution.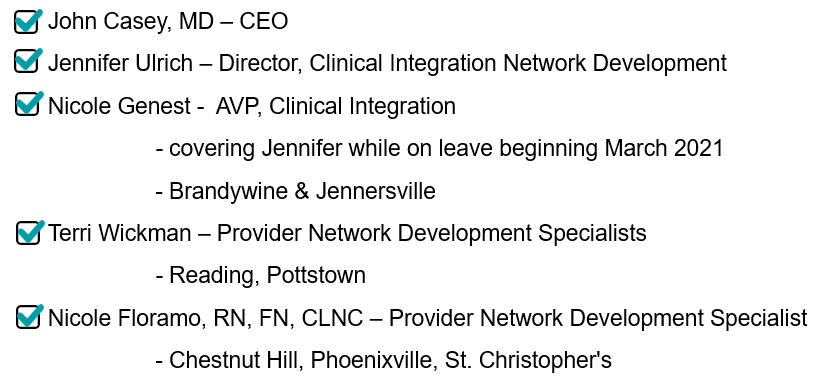 Value-Based Care post COVID-19
Congress established The Center for Medicare and Medicaid Innovation (CMMI), a decade ago. The central focus of this establishment is to promote value through the testing of alternative payment models. Current alternative payment models consist of episode-based payment initiatives (like BPCI-A), primary care transformation models, accountable care-based programs and more. 
There is no doubt that COVID-19 has had a deep impact and has changed the landscape for how healthcare is and should be delivered to patient populations. In light of the COVID-19 pandemic, the ways in which most healthcare systems manage both routine & complex acute care as well as promote wellness with a population health-focus has shifted dramatically over the last year. Within the healthcare markets, COVID-19 has solidified the urgency to shift traditional fee for service payments to payments which more intently reward value for services provided. 
A blog posted recently by ECG Management Consultants, discusses the acceleration toward value in the post COVID-19 environment. It is more important than ever that when the opportunity arises, Tower Health physicians continue to engage in value-based care initiatives as market forces are likely to only continue to grow in size and scope moving into the future.