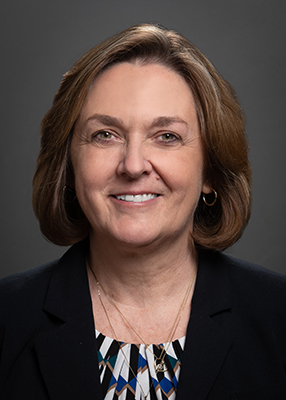 Michelle Trupp, MSN, RN, CEN, has been named Chief Operating Officer for Reading Hospital, Senior Vice President, Tower Health. In this role, she will focus on several key areas to ensure operational efficiencies and effectiveness, continuous quality improvement, employee and patient satisfaction, and ongoing enhancements in the delivery of care.
Ms. Trupp's clinical and administrative career spans more than 40 years at Reading Hospital and Tower Health. She is a proud graduate of Reading Hospital School of Nursing and began her career as a registered nurse in the hospital's Emergency Department. Her clinical skills and knowledge and exceptional relationship development skills within and across functional areas led to numerous professional advancements throughout her tenure.
As a leader, she played an integral role in Reading Hospital's first designation as a Trauma Center in 2005 and she co-led two physical expansions of the Emergency Department. In partnership with Charles F. Barbera, MD, now Reading Hospital President and CEO, she worked tirelessly to drive change management and process improvement, advancing the Emergency Department's Press Ganey scores from the 12th percentile to the 90% percentile in 18 months in 2007.
In 2018, Ms. Trupp was named Chief Information Officer for Tower Health. In this role, she was a consummate advocate for IT security, quality, clinical documentation, and coordination of care, which led to Reading Hospital's designation as HIMMS 7 in 2018. This designation signifies the health system's ongoing commitment to digital transformation in healthcare. Her leadership skills, commitment, and passion for our organization were vital to our successful IT integration and EPIC installations across Tower Health.
About Reading Hospital
Reading Hospital is the flagship, Magnet Recognized, acute care hospital of Tower Health. Located in West Reading, Pa., Reading Hospital is a 697-bed hospital that is home to many top-tier specialty care centers, including Reading HealthPlex, McGlinn Cancer Institute, Miller Regional Heart Center, Emergency Department, Level I Trauma Center and Beginnings Maternity Center, which houses the region's only Level III Neonatal Intensive Care Unit (NICU). With more than 1,000 physicians, specialists, and advanced practice providers across 49 locations, Reading Hospital has been recognized for its quality outcomes and clinical expertise across services lines. It is listed as one of America's 100 Best Hospitals for four consecutive years (and moving up to America's 50 Best Hospitals in 2022) and received a 5-Star Rating from CMS two years in a row. For more information, visit towerhealth.org.